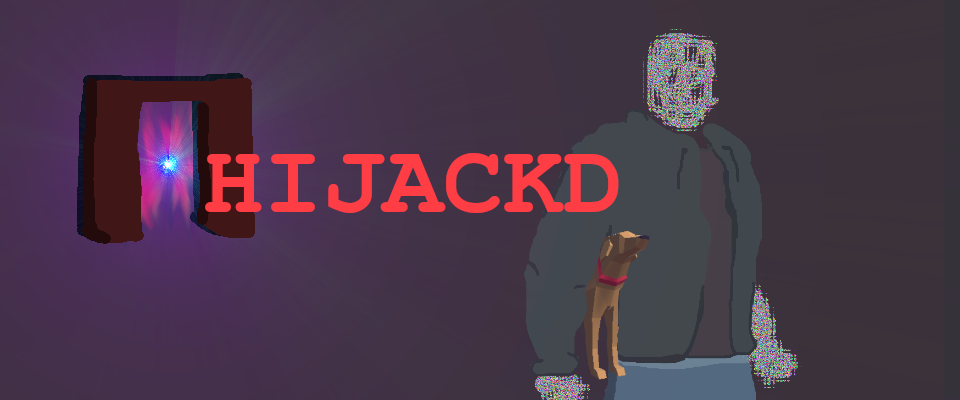 HIJACKD [Demo]
A downloadable game for Windows
HIJACKD - The Sandbox Demo!
Description
Possess anyone you see, take on their identity and skills, and garner enough favor to return to the world you were ripped from!
CONTROLS
Movement: 'W' 'A' 'S' 'D'
Jump: 'Space'
Show Objectives: 'Tab'
Use Item (Left Hand): 'E' or 'LeftMouseButton'
Fire Weapon (Right Hand): 'RightMouseButton'
Possess NPC: 'E'
Collect Item/Press Button: 'E'
Pick up Knocked-out NPC: 'E'
Drop NPC body: 'F'
What's in the Demo?
A small area demonstrating the following mechanics:
Possession - Destroy an NPC and take their weapon and item, while adding to your health pool.
Mobility - Run, Jump, and Grapple to elevated areas.
Non-lethal/Lethal combat options - Two ranged options, one non-lethal melee option, one lethal melee option.
A quest for puppies - One collectibles quest.
Offering system - Offer knocked-out NPCs on the altar and receive favor
A secret level - You'll have to find this out for yourself
Bodyguards and Civilians - Cops are the only bodyguard NPCs currently, they will charge you if in their field-of-view and will attack you within a certain distance. Civilians blindly wander and do not attack.
This demo sucks! Where can I leave my criticism?
The full game will provide more content, which means I'm in dire need of feedback.
Please leave as much feedback as you can on the forums, and check out the Trello for upcoming updates and progress on the full game. There are a lot of issues, especially in nailing down the 'fun-factor,' hence if the game really isn't fun to play then don't hold back.
When will the full version be available?
As soon as I have a definitive answer I'll post it here and everywhere else. For now, when all current cards are in the 'Finished' section on Trello, and I feel that the game is accessible by a large audience, I'll release it. :D
Thank you for visiting, I hope you have a great time exploring the sandbox and spawning tons of NPCs!
Download
Click download now to get access to the following files:
HIJACKD_DEMO_0.8.1 (Latest)
32 MB